Travesia a nado is an annual event with some 1400 swimmers travelling, to the small fishing town of Santa Pola, in order to swim from Tabaraca Island to Varadero beach in Santa Pola, a distance of 5.9 kms in cold, rough water.


This year, the race took place on July 3rd, 2022.  For the volunteers, of which I was one, the day started at 5am where dozens of people were already lining up for registration.  It ws still very dark, but there was an incredible atmosphere of excitement and energy.  Registration started at 5.30 with each swimmer having their number written on their arm, and then being issued the package for that number.
The first, of 5 Tabarkaras (ferries), left at 6am transporting almost 300 swimmers across to the island.  As soon as the boat docked, swimmers poured off the boat and made their way up the hill. and to the beach, on the other side of the island. Within minutes another Tabarkera would arrive, and the beach would soon be packed. Survivors 'Eye of the Tiger' was blaring out from the loudspeakers, and the atmosphere was, in a word, electrifying.  (I have never experienced anything like it!)
Finally, to the awe-inspiring music of Carmine Burana, it was time for the swimmers to enter the water. It is hard to pick them out but there were actually 216 women swimmers. There were 929 male swimmers.  Swimmers came from 11 countries.
The start is one of the most incredible things I have ever been privileged to see.
The amazing drone footage was taken by Javier Escandell.  All of the other photographs and video were taken by myself, using a variety of cameras.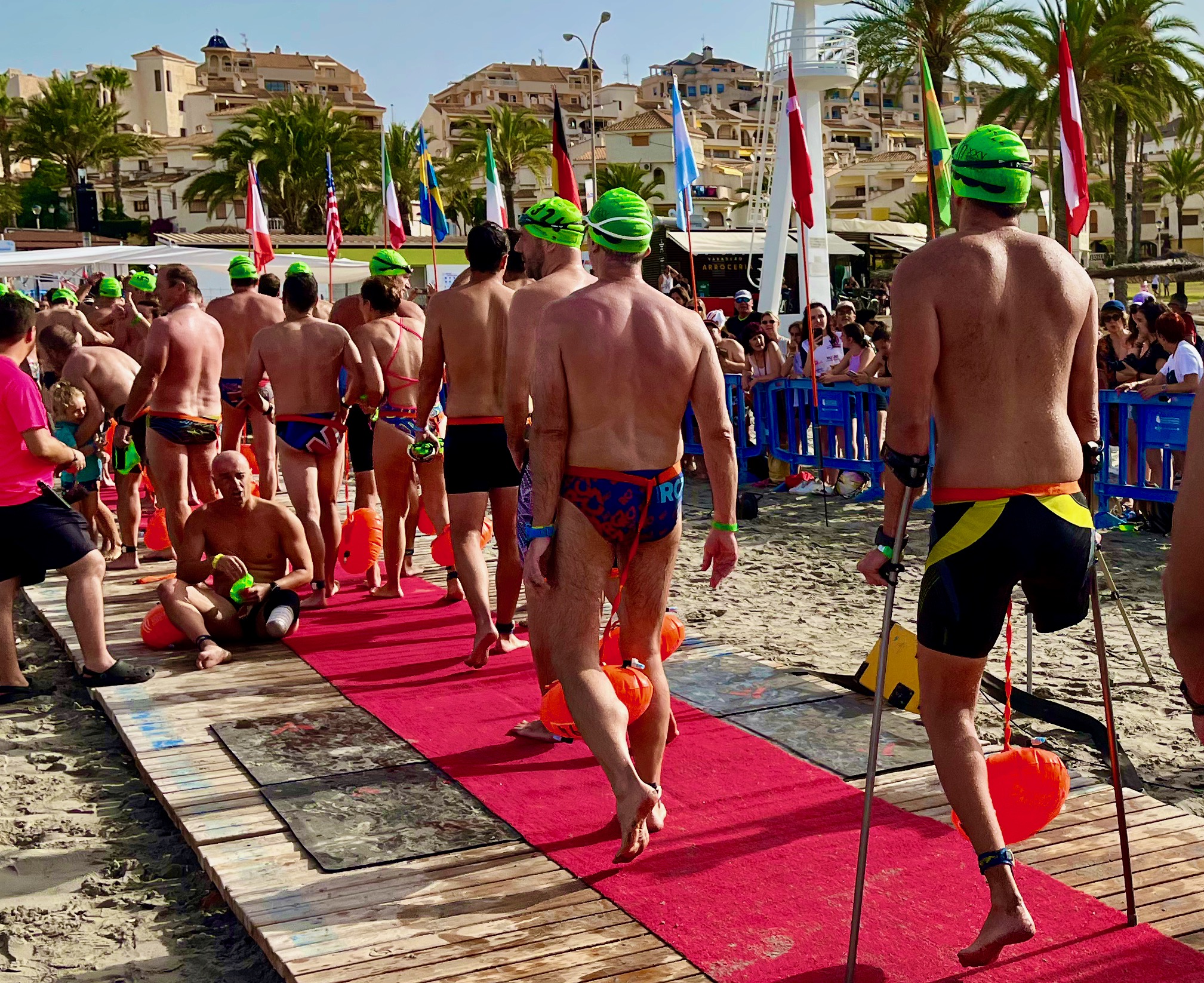 11 of the swimmers were Acero de Barco (Boat Steal)  I saw two  of them; one with no leg (picture on the left) and another with their leg removed below the knee. Both of them made it to the finish line.  (In the video above, you will also see a swimmer with legs like matchsticks, on crutches.  He could not walk without them, and had to be lifted out of the water into a wheelchair at the finish line. The courage some people have in the face of adversity is extraordinary!
A huge crowd waited for the swimmers to cross the finish line.  The atmosphere was absolutely incredible.  The 1st swimmer crossed the line in 76 minutes, a speed of just under 3mph. Amazing.